OUR PRODUCTS HAVE EVOLVED OVER THE YEARS
Find Your Perfect Soldering Equipments From ARMSOL.
Search from Wide range of Soldering Iron,Seldering Bits,Soldering Stand,Tweezers, Cutter-nipper,Sponges,Tip Tinner,Soldering Flux,PCB Iching,PCB Drill Machine,Solderless Breadboard,Jumper wires and many more.
Must-have Products and more
Everything you need for repairs in one place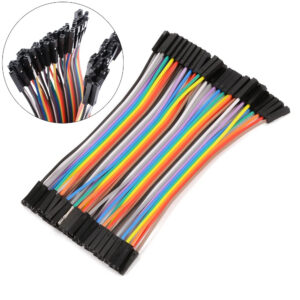 This is 10CM Female to Female Breadboard Jumper Dupont 2.54MM 1P-1P Cable 40 Pcs. A very Flexible and easily detachable cable to the no. of wires according to your requirement. It has 1Pin female to the 1pin female header with both ends. Also, it is compatible with 2.54 mm mil spacing pin headers. This cable is an electrical wire or group of them in a cable with a connector or pins at each end, which is normally for interconnecting the components of a breadboard or other prototype or test circuit, internally or with other equipment or components, without soldering. Individual Dupont Cables are fitted by inserting their "end connectors" into the slots provided in a breadboard, the header connector of a circuit board, or a piece of test equipment. Mostly it is useful with Orange Pi, Banana Pi, Raspberry Pi, Arduino, and other mini pc and development board. It is very useful in the PCB project, pc motherboard, as well as Breadboard connections. Additionally, it allows you to plug and unplug easily for prototyping and can be used over and over again.
Solder It...
Assemble It...
Enjoy It...
Why People Choose Products from ARMSOL?
ARMSOL is one of the leading Manufacturers of the Soldering and Desoldering Tools Brand. We cater to the requirements of the dynamic electronic, electrical & auto industries across India. Our electronic products are based on the latest research innovations.